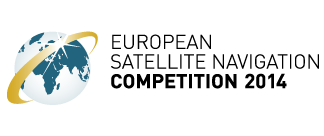 In the European Satellite Navigation Competition 2014, two of Europe's most relevant GNSS stakeholders, the European GNSS Agency (GSA) and the European Space Agency (ESA) are looking for your forward-thinking application based on satellite navigation:
The European GNSS Agency (GSA) will award the most promising European GNSS (Galileo, EGNOS) application idea with the opportunity to realise the idea at a suitable incubation centre within the EU28 for six months. To get started you may use the EGNOS SDK which has been designed to allow application developers to take advantage of the benefits of EGNOS, and to use these in any software they develop for mobile devices.
The European Space Agency's Innovation Prize is looking for new ideas for the commercial use of space technology. Get support in the creation of your start-up company at one of the nine ESA Business Incubation Centres and win a cash prize of EUR 10,000.
Don't miss to also sign up for one of the more than 20 regional prizes and double your chances to compete for the grand prize of EUR 20,000.
Take your business off the ground!
Take part in the European Satellite Navigation Competition (ESNC)! Since 2004, the international ideas competition rewards innovative applications using satellite navigation in everyday life. The competition is open to everyone, from developers and entrepreneurs to research scientists and students. Submission is possible from 1 April – 30 June at: www.esnc.eu
5 reasons to sign up now
EUR 1 million prize pool
More than 30 prizes to be won
Access to customers and user communities
Support from more than 100 global partners for your service or product
Publicity in the world's leading satellite navigation network
Meet us at the European Navigation Conference & the European Space Solutions
The ESNC International Kick-off will take place in line with the European Navigation Conference on 15 April in Rotterdam. The session scheduled for 16:10 – 17:40 will be free and open to public. Not able to join? Then meet us at the European Space Solutions in Prague from 11 -13 June. We hope to see you there!
 More information: 
European Satellite Navigation Competition 2014 Brochure
---