SmeSpire Challenge 2014
---
UPDATE:
DEADLINE FOR SUBSCRIBTION EXTENDED TO MARCH 31st AND
DEADLINE FOR SUBMISSION EXTENDED TO APRIL 15th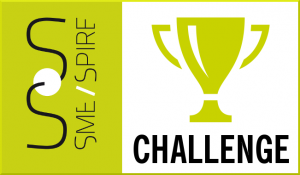 The SmeSpire Consortium in collaboration with SUNSHINE, i-Scope, C-Space and eENVplus projects is proud to launch the first SmeSpire Challenge to stimulate new business ideas originating from the INSPIRE implementation process having geo-ICT SMEs as key players.
The award ceremony will be at the INSPIRE Conference 2014, Aalborg, Denmark, 16-20 June.
The challenge is structured into two tracks: "Best Practices for INSPIRE" and "Open Source Software for INSPIRE", encouraging submissions related to successful INSPIRE implementations in vertical application domains.
---
Topics
Applicants are welcome to choose any track and topic that captures their creativity, vision and exploit their SME talents. 
Building 3D Digital Cities
Creating and maintaining databases of metadata for urban environment objects
SDI to better manage large cities
Private/public energy consumption optimization
Urban resource management and optimization
Urban pollution detection and management
Automatic large-scale assessment and monitoring of building energy performances
Other application domain related to INSPIRE data themes
Track 1 – Best Practices for INSPIRE
Best Practices related to the use of open source software for dataset harmonisation according to INSPIRE Annex I-II-III themes data specifications, submitted in the form of: detailed documents, detailed tutorials, multimedia material  or other material (i.e. websites).
Track 2 – Open Source software for INSPIRE
Open source software computing specific results from inputs provided by one or more INSPIRE-harmonised datasets belonging to the Annex I-II-III themes.
Software can be related but not limited to:
Innovative geo-visualisation tools
Simulation applications
Data harmonisation tools
Smartphone/mobile tools
Other types of INSPIRE supporting software
---
Guidelines
The challenge is open to both registered (members of the smeSpire Network) and not registered SMEs as well as to students, research centres, public bodies and single professionals. Applicants are welcome to choose any track that captures their creativity, vision and exploit their SME talents.
Each applicant can apply for one or more tracks provided that the submitted products/solutions are different. If a product/solution can fit in more than one track, the challenger should apply for the most relevant one.
Awards for the smeSpire challenge will be presented during the next INSPIRE Conference in Aalborg Denmark, 16-20 June 2014, a great window towards European market and networking opportunities. The event will also give the opportunity to announce future plans about the challenge for the forthcoming years.  
---
Important Dates
31 March: Challenge Subscription
15 April: Best Practice / Software submission
30 April: SmeSpire evaluation results
16-20 June: Awards Ceremony
---
More information
For more information or additional questions, please contact smeSpire or write to: challenge@smespire.eu
---
Subscribe to the Challenge